Tuesday night's Verzuz featuring Ja Rule and Fat Joe was another notch on the belts of New Yorkers. But many folks in the Twitterverse had questions about Joey Crack's incessant use of the n-word. 
In 2019, Fat Joe, born Joseph Cartagena, made it no secret that he should have free reign to use the n***a– gratuitously because all Latinos were Black– even Blacker than actual Black people.
N***a, what?
Black Twitter did not let the "Lean Back" rapper forget that they remembered.
Does #FatJoe have a black parent, he says "nigga" a lot…👀👀👀 #Verzuz

— Apathy Incarnate (@PyroLeo1) September 15, 2021
I feel this is reparations for Fat Joe saying "nigga." You pasty Latinos take notes…El esta perdiendo! 🤣 #fatjoe #JaRuleVsFatJoe #VERZUZ pic.twitter.com/lHFkotGG9K

— Keka Araújo (@KAraujoNWT) September 15, 2021
Tonight is going to be a reminder that yall was out here letting Fat Joe say nigga all over them records. #VERZUZ pic.twitter.com/n2v9ARt3q1

— Cruel (@CruelPhilosophr) September 15, 2021
I'm still not sure how I feel about Fat Joe saying nigga #verzuz pic.twitter.com/jO8FYS8W5f

— .kila (@iamKakila) September 15, 2021
So we're not going to talk about how disrespectful Joe is to black women and how easily the word " Nigga" flies out of his mouth? #VERZUZ pic.twitter.com/SqkJa7dkdd

— John Doe (@doe93256509) September 15, 2021
In September 2019, Fat Joe made a press stop at Hot 97 spoke about race among other topics.
The pasty rapper of Cuban and Puerto Rican descent parted his wafer-thin lips to give a bogus history lesson on latinidad saying, "Let's speak about Latinos not being black. Latinos are Black."
"In Cuba, at one time, there was eight million Cubans. Five million, unfortunately, were slaves. Three million were actual Cubans, and they integrated and had babies. Same thing with Puerto Rico when you go to Loíza. And when you talk about Santeria, that came from the motherland Africa."
"Sometimes, Latinos may even identify themselves with African and black culture more than black people. This ain't no crazy thing. Fat Joe ain't on crack. He know what he talking about."
The truth is he didn't know what he was talking about. And as a white man, he should mind his business. The reality is actual Black Latinos are erased from the culture even though the aspects of the culture everyone seems to love are African. 
And being from the Bronx doesn't make him Black. He could be poor or hood– but never Black. And co-opting Black culture because he "grew up in it," doesn't make it right.
Fat Joe, then, added insult to injury by implying that he knew more about Blackness than Black people. 
Naw, son.
This is a culmination of Black folks not gatekeeping and his pale privilege running amuck.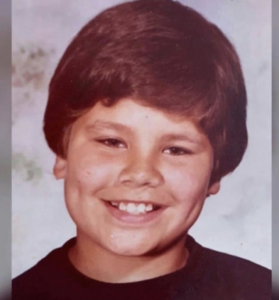 Joe needs to do better and keep the N-word out of his mouth. And if there are any more questions about Joe's alleged Blackness. Take a look at him and white Cuban rapper Pitbull.
Any questions?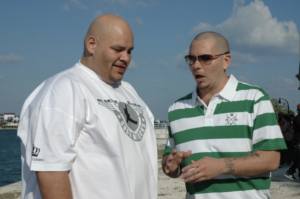 And- he lost the Verzuz.