Black woman-owned liquor brand Uncle Nearest Whiskey recently crossed the $100 million sales mark.
On Dec. 5, Uncle Nearest Premium Whiskey announced that its sales exceeded $100 million through October 2022, with an on-track forecast to more than double the total by the end of 2023. The Tennesse brand, founded by CEO Fawn Weaver in 2017, is reportedly the most-awarded Bourbon and American Whiskey of 2019, 2020, and 2021. Weaver was later joined by Chief Business Officer Katharine Jerkens and Victoria Eady Butler, the great-great-granddaughter of the company's namesake, Nearest Green, and four-time Master Blender of the Year recipient.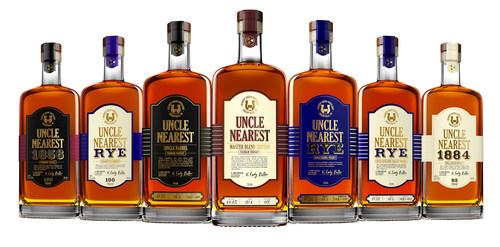 In 2021, Uncle Nearest shared that it had become the best-selling African American-owned and founded spirit brand in U.S. history. The liquor brand had reportedly sold $1.5 million bottles of its premium whiskey.
"When we entered the bourbon market, we had no idea we were making history as the first and only brand to commemorate an African American, and the first major spirit company to be founded and led by a leadership team of all women," Weaver, also the company's Chairman, said about crossing its newest sales mark. "The question on the mind of so many in the CPG and spirits industry was, could a brand with a story broaching American topics no one had ever attempted be embraced by consumers of every background, gender and race? That answer has become abundantly clear. The world had been waiting for Uncle Nearest for more than 160 years, they just didn't realize it until our bottles hit shelves."
Uncle Nearest, which sits on a recently expanded 323-acre distillery, reportedly excels in "purpose-driven, mission-oriented" marketing. Thus far, it has welcomed over 100,000 guests, with that number increasing significantly every week from around the globe.
"We have an entire generation of Black women and people of color, who represent 70 percent of our country but still feel marginalized and underrepresented, counting on us," Weaver said. "This group continues to look to Uncle Nearest as proof that anything is possible. We will not let them down."
Uncle Nearest is currently available for purchase in all 50 states and 12 countries. It's sold at its Nearest Green Distillery in Shelbyville, Tenn., and in over 25,000 stores, restaurants, bars, and hotels.