Tristan Thompson and the ongoing paternity saga with his third baby's mama – Maralee Nichols – has culminated into something we've all known– Thompson is the father. 
The serial cheater took to Instagram to confirm the news and apologize to Khloe Kardashian via IG stories. He also apologized to Nichols and expressed that he was anticipating "amicably" co-parenting his son with Nichols. 
"​​Today, paternity test results reveal that I fathered a child with Maralee Nichols. I take full responsibility for my actions. Now, that paternity has been established. I look forward to amicably raising our son. I sincerely apologize to everyone I've hurt or disappointed throughout this ordeal both publicly and privately," Thompson posted.
"Khloe, you don't deserve this. You don't deserve the heartache and humiliation I have caused you. You don't deserve the way I have treated you over the years. 'My actions have certainly not lined up with the way I view you. I have the utmost respect and love for you. Regardless of what you may think. Again, I am so incredibly sorry."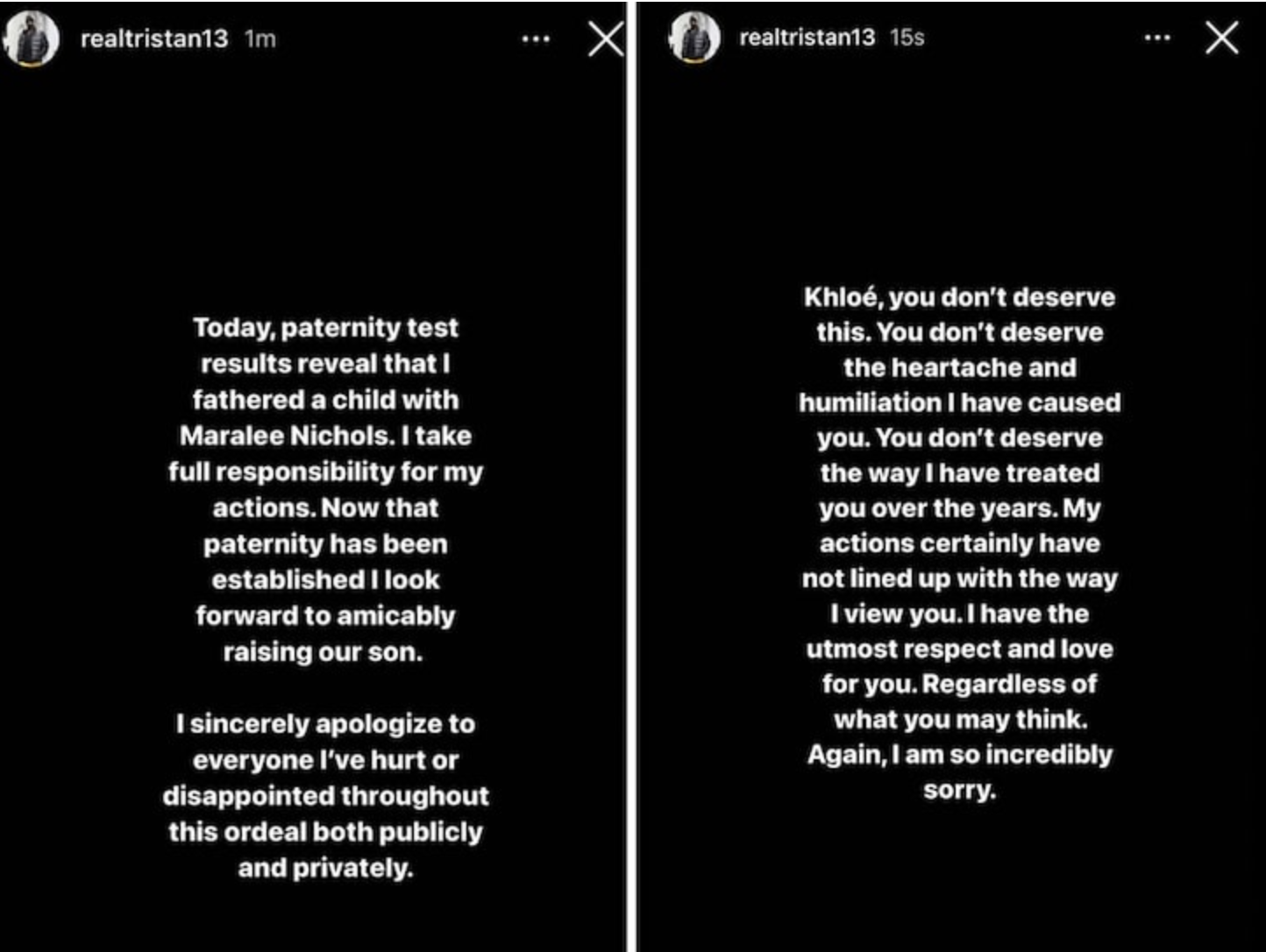 Harvey Englander, Nichols' attorney, defended his client, saying that Thompson's actions were trash given the fact that he's the father of the woman's baby.
 "There was never any doubt that Tristan Thompson was the father of Maralee Nichol's baby. Tristan made numerous false and defamatory statements and declarations about Maralee over the past few months, and she is taking his contrite statement today in the context of all of those statements."
For months, Thompson had done everything in his power to discount Nichols' and his baby. He even asked a judge to place a gag order on the woman.
Thompson and Nichols' son was born early last month.
Nichols has been relatively quiet during the proceedings, but she did post a photo of her son's first Christmas on her IG captioned with a Black heart emoji. 
View this post on Instagram
​
 Khloe has yet to comment.