On Tuesday's episode of The View, Whoopi Goldberg shared her thoughts on Dr. Maya Angelou being featured on the U.S. quarter. 
"I want to point out that not too long ago, we were expecting to have Harriet Tubman gracing the $20 bill. Remember that?" Goldberg said on Tuesday morning's show.
 "But now it looks like the price has been slashed to a quarter, because now we have Maya Angelou on a quarter."
Dr. Angelou will be the first Black woman to appear on the 25-cent coin with the American Women Quarters Program, Sis2Sis reported. Though the U.S. Mint began circulating the quarter on Monday, Goldberg believes the legendary poet's image deserves to be featured on currency greater than 25 cents.
Tubman died in 1913 and was known as an abolitionist and activist who utilized the Underground Railroad to help others attain freedom in the north and southern plantations. While maintaining her roles as a scout, spy, guerrilla soldier, and nurse in the Civil War, she was the first African American woman to serve in the U.S. military, according to the National Women's History Museum. 
In 2016, the U.S. Treasury Department decided to replace Andrew Jackson for Tubman to appear on the bill. The federal agency turned to the American public and asked who they would want to see honored on the currency, ABC News reported.
Former President Donald Trump disagreed with the decision and suggested the abolitionist should be honored on the less frequently used and circulated $2 bill.
Meanwhile, the new Angelou quarter was designed by Emily Damstra, an artistic designer for the U.S. Mint Infusion Program, and sculpted by Craig A Campbell, a medallic artist for the U.S. Mint. The coin depicts Angelou posing with her arms outstretched and uplifted; behind her are a bird in flight and a rising sun. The images symbolize how she lived her life and was inspired by her poetry, the Mint said.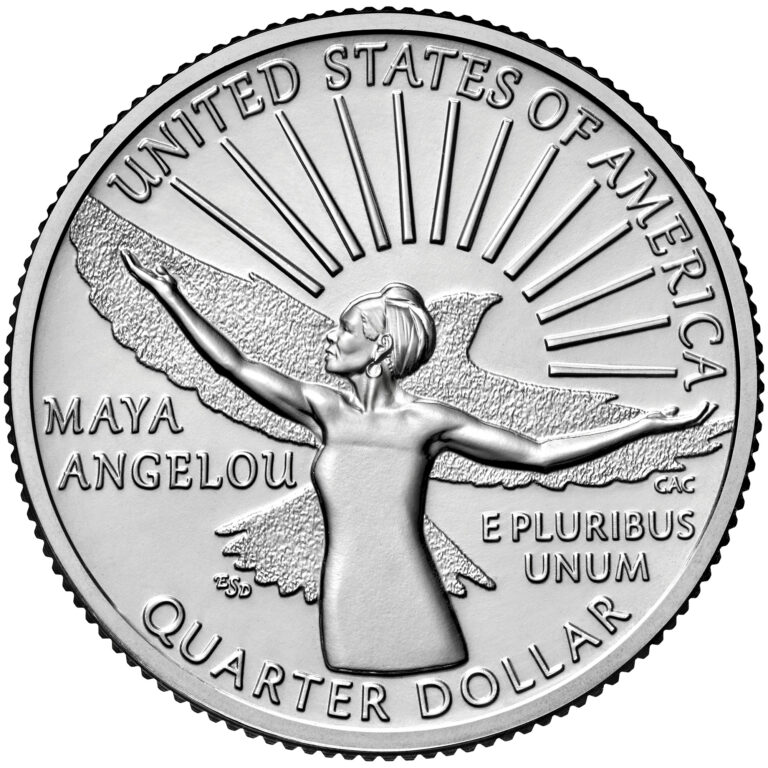 "It is my honor to present our Nation's first circulating coins dedicated to celebrating American women and their contributions to American history," said Mint Deputy Director Ventris C. Gibson in a statement. "Each 2022 quarter is designed to reflect the breadth and depth of accomplishments being celebrated throughout this historic coin program. Maya Angelou, featured on the reverse of this first coin in the series, used words to inspire and uplift."
The Mint plans to pay homage to other pioneering American women, including the first American woman to go to space, Sally Ride, Native American activist Wilma Mankiller, New Mexico voting rights leader Nina Otero-Warren and Chinese American film legend Anna May Wong.
"Maya Angelou's writing and activism inspired countless Americans and her legacy helped fuel greater fairness and understanding across our nation," said Senator Catherine Cortez Masto (D-NV), Senate sponsor of the redesigned bill.
"She is exactly the type of leader I had in mind when Senator (Deb) Fischer (R-NE), Representative (Barbara) Lee (D-Calif), and I wrote our bipartisan legislation to create a series of quarters honoring the contributions of American women. This coin will ensure generations of Americans learn about Maya Angelou's books and poetry that spoke to the lived experience of Black women."
Angelou died in her North Carolina home in 2014 at the age of 86.