Rapper Fabolous's stepdaughter, Taina Williams, refused to have him bask in the glory of appearing like a great father. After the "Say Aah" rapper made a "Happy Birthday" post on Instagram for his now 2-year-old daughter, Journey Isabella, who he shares with ex-girlfriend Emily Bustamante, Williams went to the comments to expose him.
View this post on Instagram
"I named you Journey because that's really what it's been," he stated in the caption. "You might not know when you going thru it, but you'll get it at the end. I don't believe you can have faith unless you trust the JOURNEY. You have taught me that, so I look at you with understanding & love. Your life assures it will all add up…10 • 10 • 2020. Happy Bday Journey Jackson @journeyisabella_."
The comments were full of birthday wishes for Journey from people like rapper Ludacris, Busta Rhymes, Jadakiss and Dave East. However, Williams (Bustamante's daughter she had with another man) decided to expose her stepfather in the comments section, revealing that he didn't "know when [Journey] was going thru it" because he allegedly wasn't there for her for almost a year.
"This post is hilarious," Williams wrote. "'Might not know when you going thru it, but you'll get it at the end' is translation for = I haven't been [sic] taken care of my daughter in almost a year & don't even ask about her well being because IDC (I don't care) & I'm bitter & I'm only a father to my two beautiful sons who I can manipulate."
His stepdaughter ended her comment with, "Stop playing with the internet."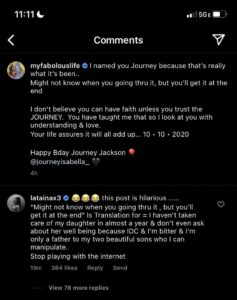 Fabolous and Bustamante's relationship was toxic and violent to the point where the rapper was arrested in 2018 for assaulting her. According to TMZ, Fabolous has repeatedly beaten Bustamante in the face, causing her to lose her front teeth.
A video captured him in a heated argument with his Bustamante and her father after she called him, scared he would use his weapons against her after he got mad that she took a trip to Los Angeles without him knowing and was in the city at the same time. He sent her a text stating he wanted to kill her.