Olympic Gymnast Sunisa Lee says she receives negative criticism from the Hmong-American community after sharing that she's dating Jaylin Smith.
Lee, 18, posted an image of herself alongside her football beau, Smith, on Instagram back in December. The caption has a simple white heart, showing Lee's love for her boyfriend. Since then, the interracial couple has dealt with disparaging comments, she says, from her people.
Pop Sugar reports that Lee responded to a positive TikTok video about her relationship. In her response, the gold medalist revealed that she has been dealing with hate from her community.
"I know that Sunisa will be judged by certain eyes in the Hmong American Community because her man is Black," TikTok user alixphom wrote. "LOVE is LOVE, no matter what race or gender you are. Keep doing you, QUEEN."
Lee saw the video and left a comment expressing her happiness about it to her delight.
"This makes me so happy. I've received so much hate," she wrote. "They support me when it's beneficial for them, never when it comes to my happiness. Thank you!"
Jaylin Smith is a football player at the University of Southern California. Sunisa Lee is also a college student at Auburn University in Alabama.
Unfortunately, Lee is no stranger to racially motivated attacks. According to Pop Sugar, the gymnast was involved in a pepper spray incident last year. She was with a group of her Asian friends when someone in a passing car told them back to where they came from. One of the passengers in the car proceeded to pepper spray Lee's arm.
"I was so mad, but there was nothing I could do or control because they skirted off," she told Pop Sugar. "I didn't do anything to them, and having the reputation, it's so hard because I didn't want to do anything that could get me into trouble. I just let it happen."
Thankfully, the situation didn't escalate any further.
TikTok user alixphom also promises to hold Sunisa Lee down in the face of hatred, saying,
"I gotchu Queen, and your Kings back. Let's be the change and grow our Hmong Community," he said in response to her comment on his video.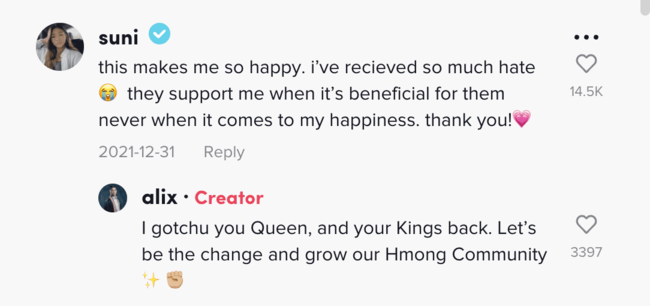 Aww, how sweet.