That's So Raven actress Raven Symoné has made some major lifestyle changes resulting in her losing a total of 28 pounds. She revealed her new look to fans on social media on Sunday (May 30).
With her wife Miranda Pearman-Maday by her side, 35-year-old Symoné shared an Instagram Live with the caption "Pounds Down (Ear update). Just sayin' hi! Info about the pounds down journey/ear piercing/and moving."
In the video, she and her wife are in a car driving as they speak to fans.
Symoné says, "Pounds down. pounds down. Check out the chin. You see that chin? If you all watch Raven's Home literally right now, and then come on this live and see this joint, I got a whole different face going on. It's a whole pounds down journey."
She continues to say, "Just so you guys know, I am 28 lbs. down. I lost a s**t ton of weight."
Her wife said, "You're incredible, honey. You're doing so good."
Symoné also said, "Right now, I'm doing a 48-hour fast, so we're on that journey right now."
The video received positive feedback as fans applauded Symoné on her weight loss journey.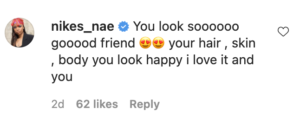 While some comments were supportive, others critiqued the actress for sharing her strategies.
"This sh— is cringe," one comment said. Another person wrote, "Celebrities really need to start considering how harmful it is when they post shit like this. You're basically saying that it's OK to starve yourself in the name of losing weight because being skinny is the key to happiness. But it's not. Thanks for coming to my TED Talk."
Related Story: Real Housewives of Atlanta Fans Wonder WTH Kandi Burruss Wore During The Reunion
Pearman-Maday revealed they started an exercise journey together, which will premiere on their YouTube page sometime soon.
If you've already seen her weight loss journey, you'll know she looks GOODT. We're happy and excited to see her continued success.
Check out Raven-Symoné's new look in the Instagram Live video below:
View this post on Instagram