Grammy and NAACP Image Award-winning singer Brandy put her brother Ray J on blast via Instagram for ignoring her advice before his Verzuz appearance.
Brandy took to Instagram on June 24 to write under Ray J's post of an internet comedian mimicking his recent performance.
"Since [we're] deleting comments, I will comment again!" she wrote. She then reprimanded her younger brother for not following the instructions she gave him to prepare for Verzuz.
"Bro, Pops told me that you didn't drink none of the tea I made for you. He also told me that you were talking all day when I specifically said NO TALKING and only drink water and the special tea I made for you at four in the freaking morning. Caught!!!"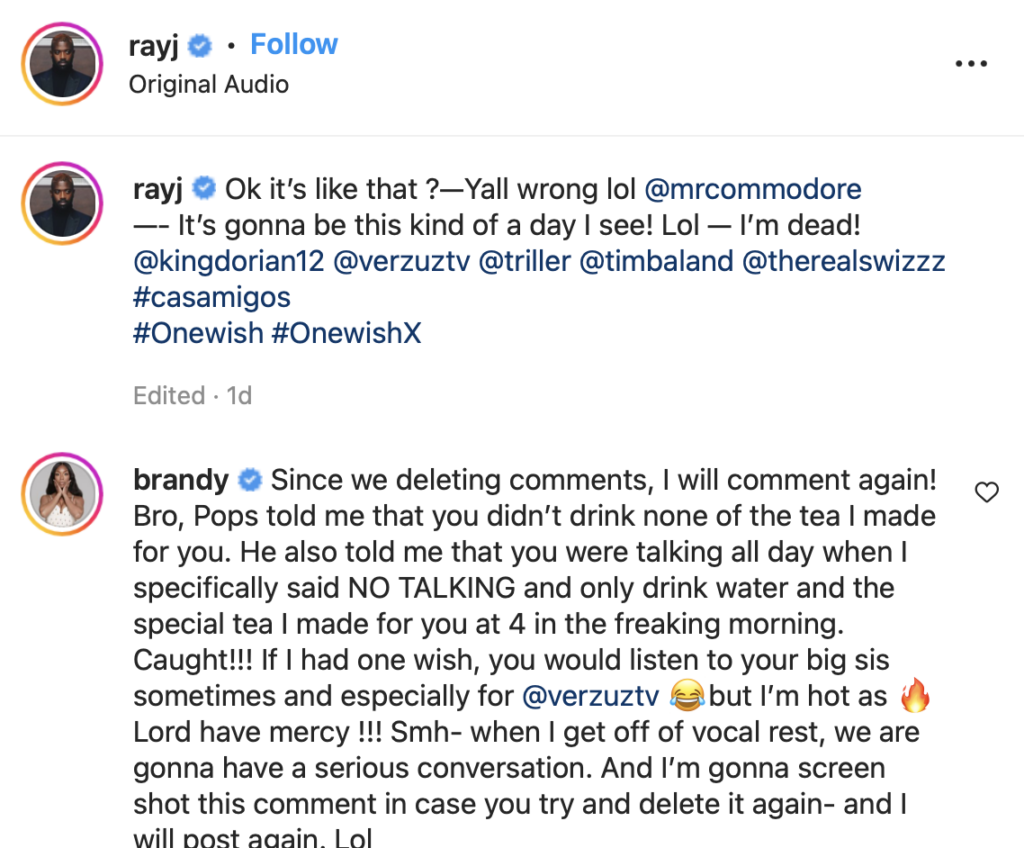 Brandy hilariously added that if she "had one wish," it would be that Ray J listened to her sometimes. He performed the modern classic R&B hit, which dropped in 2005, at the popular music battle series on June 23. R&B singers Omarion and Mario headlined the highly anticipated event in Los Angeles and brought out several other musical guests, including fellow 2000s R&B crooners Bobby Valentino, Sammie, Pleasure P, and Jeremih.
"If I had one wish, you would listen to your big sis sometimes and especially for @verzuztv [laughing emoji], but I'm hot as [fire emoji], lord have mercy!!!," said Brandy. "Smh, when I get off vocal rest, we are gonna have a serious conversation. And I'm gonna screenshot this comment in case you try and delete it again, and I will post it again, lol."
Ray J's performance was shaky, leaving fans and viewers wondering if his vocal abilities have diminished. Naturally, Black Twitter reposted a viral video clip of his appearance and clowned him for the rest of the night.
"#RayJ giving Bobby Brown realness at the Mario vs Omarion #verzuz," @Barbiedolltvv wrote in a tweet of the viral clip.
#RayJ giving Bobby Brown realness at the Mario vs Omarion #verzuz pic.twitter.com/TPXtoTJ8xk

— The Gworls Are Fighting (@Barbiedolltvv) June 24, 2022
The 41-year-old claimed he struggled through his song because he was holding his son, Epik Ray Norwood, 2, whom he shares with reality TV personality Princess Love, on stage. They also share a daughter, 4-year-old Melody Love Norwood.
"Hey, I missed a few notes on that, but I was holding my son," he told the Verzuz crowd. "Y'all gotta excuse me for that."