VH1's Love Hip Hop New York cast members Erica Mena And Safaree may have called it quits after their 16-month marriage.
On Tuesday, Safaree posted a not-so-subtle tweet regarding his decision to tie the knot with Mena. The tweet has since been deleted.  
"I mean this from the bottom of my heart, getting married was 1 of my BIGGEST mistakes, and it will never happen again. I'm walking away before I end up in jail over some dumb sh**. Nobody is worth my freedom," the rapper wrote.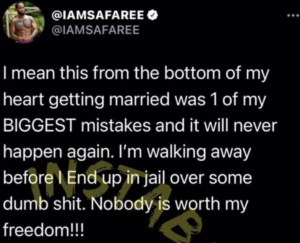 His estranged wife wasted no time clapping back at the emotional rapper.
"Since you always run to social media like a little girl, I might as well join in. I absolutely agree with you on this. You are the most selfish, vain and inconsiderate person. And not just with me but your only daughter," Mena responded.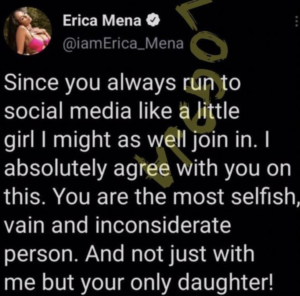 Mena then went on to add, "Out of RESPECT for my daughter and to honor my growth as a woman. I'm going to get back to doing what I do best. Make money and be only about my business. Entertaining social media with my issues isn't my thing."
This situation isn't the first time the Jamaican rapper has put his foot in his mouth. 
A month ago on Love & Hip Hop: Secrets Unlocked, Erica Mena disclosed, to her husband's surprise and denial, that the "Straaaaight" rapper didn't want any more children after the couple's pregnancy weight gain. 
"But tell them why you don't want another one," the mother of two told Safaree. "Cause I got too big' during my pregnancy. You say it all the time. You mentioned my stomach afterward. You said, 'You got too big, I got too big. I don't want to be fat, again.' That's what you said."
He eventually apologized for the insensitive comment– after fellow castmates scolded him.
Mena wasn't finished spilling her beau's tea. 
She also divulged that Safaree didn't want to have any more children, but it was something he disclosed after they were already married. 
"And then not only that. He waits until after we get married to say that he don't want more kids. You knew that I want more kids," Mena revealed.
The couple has an adorable 13-month old daughter named Safire.