Keyshia Cole took to Instagram Wednesday and informed her 7 million followers that she was recently admitted to the emergency room following a severe anxiety attack.
According to The Jasmine Brand, the 40-year-old entertainer provided her fans with a health update, revealing that she wasn't feeling well due to a lack of sleep. In an Instagram story, the singer explained that she had the worst anxiety attacks and needed to seek immediate medical attention.
"I'm so proud of getting a few hours sleep, literally have been getting none! So not ok. SMH. And have been having the worst anxiety attacks when I can literally feel my heart hurting. Had to take my a** to the emergency room. They gave me d*mn medicine for anxiety. I didn't KNOW wtf was happening to me.." she captioned the photo.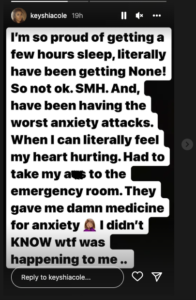 As Sis2Sis previously reported, the Oakland native mourned the loss of her mother, Frankie Lons, who passed away on Cole's birthday in July 2021.
The "I Changed My Mind" artist shared a photo of her and her mother with a heartfelt message dedicated to Lons on her Instagram account.
"This is so hard, man. Can't really even find the words. SMH. I honestly don't even know how to feel. You can never prepare for something like this… Ever!!!" Cole said in the caption.
She continued, "When u said all you want is to have ALL OF YOUR CHILDREN IN ONE PLACE, AT ONE TIME, meant the most to you, And I'm completely down to do that for you. Even through our differences …. WE LOVE YOU. I LOVE YOU SO MUCH!!! Frank da bank!" Cole said.
View this post on Instagram
Four months later, Cole lost her father, Leon Cole, to COVID-19 complications in November 2021. She shared a photo of her and her father on her Instagram page with a loving caption, writing, "The only father I knew, he did such a great job here on earth!!!!!," she said.
She continued, "He made sure (Even tho he wasn't my biological father) to keep a stable foundation and roof over all of our heads during our upbringing!!!! Seriously the most loving guy I've ever known. And he's gonna be missed so much! I hate that this has happened !!! And that I've now lost two beautiful souls within a few months from each other. 💔💜"
View this post on Instagram
In March, Cole sat down with Essence Magazine and shared how she continued to care for her two children, despite everything she had been through in 2021.
"I'm a mother, and I have two children. Coping? I don't even know about that right now. Processes of loss—when you have children, you just keep going," said Cole. "I haven't seen anybody or anything about the loss, a psychiatrist or anything like that. I'm just holding my kids tighter a little bit, you know? It definitely is difficult to juggle both, but it's something that you just do–you just keep going. No stopping, no pause button for this."