On the next to the last day of Black History Month, Keke Palmer announced the birth of her son with Darius Jackson. Black Twitter went up for the uber-Black name and the new mom. 
On February 27, the actress took to Instagram to tell fans that she and Darius welcomed their son, Leodis "Leo" Andrellton Jackson, to the world 48 hours ago. Keke also shared super cute photos of her family and a video.
"Hey Son!!!!

1. Only 48hrs of being parents! 😳

2. Darius always made me playlists when we first started dating, "Someone" by El Debarge was a favorite. We became each other's someone and made a someone, look at God! 😆

3. The baby love Rolling Ray, cause purrr.

4. "I'm not hiding the world from my son, I'm hiding my son from the world." Hahaha

5. I'm just playing, my baby face is on this slide.

6. And this slide 🤣🥹😅😍❤️🙏🏾😇😭

Born during Black History Month, with a name to match 😄!

LEODIS ANDRELLTON JACKSON, welcome to the world baby Leo."
View this post on Instagram
Fans and celebrities celebrated Leodis' birth. 
Rapper Big Sean welcomed the 29-year-old new mom to the parents' club.
"Big Congrats!!! Welcome to the club 🤲🏾✨"
"Hey, Leo! You are too cute!!!! Congrats, mom and dad," Ashley Graham wrote.
Embracing Black Culture penned, "The name! The face! The parents! The family! May God Bless it all. Congrats Keke!!! 🥹😭🙌🏿💜"
Black Twitter went up for the announcement and his Black ass name.
Leodis. "Leo" Andrellton born 2/27/2023 and is already 56 and got a rack of ribs on the grill. I love it!! pic.twitter.com/IYV5QQFLn1

— @KekaAraújo (@KekaAraujo313) February 28, 2023
I love how BLACK Keke's baby's name is.

LEODIS ANDRELLTON?!

— Chelsea K (@chelsmonikil) February 28, 2023
Leodis Andrellton Jackson … a Black King 🤴🏾❤️🥹 https://t.co/GpQxFyQCV2

— thefineauntie (@TheFineAuntieee) February 28, 2023
Keke giving her baby the blackest name for Black History Month has had me screaming for the last few minutes:
LEODIS ANDRELLTON JACKSON 😭😭😭😭😭😭😭😭

— Born in the 1900s 😘 (@KedaColadas) February 27, 2023
Leodis Andrellton IS A NAME!!

Very much giving yours in negritude and I like it! https://t.co/6WmxlHNcc7

— The Carbie Barbie ™ (@AshAlwaysTalkin) February 28, 2023
Leodis Andrellton Jackson. Our slave ancestors are proud.

— 𝕯𝖔𝖓𝖉𝖎. (@_dxndi) February 28, 2023
Keke naming her baby Leodis Andrellton is so fitting ✊🏾😂 Y'all know she an old soul

— lex. (@SincerelyyLex) February 28, 2023
Keke also posted a cute flick of Leodis crying and soothing him with Kendrick Lamar's music.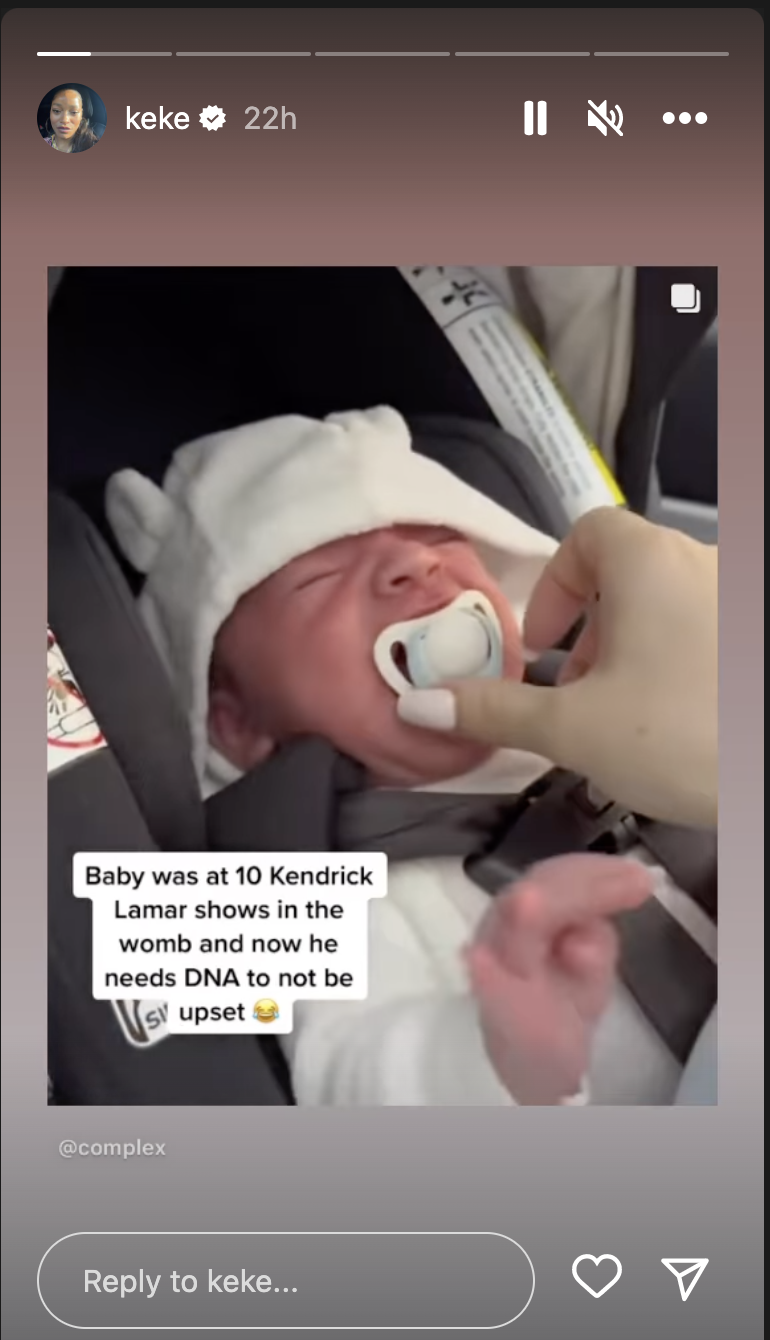 In January, the Nope actress inadvertently revealed that she and Darius' sweet bundle of joy was indeed a boy on The Jimmy Kimmel Show. 
"So, my baby is either going to be a Pisces or an Aries," she explained.  "Pisces are known to be very deep they're emotional creatures. So, I just want to make sure I'm not too blunt for my baby boy. I don't want to be too …like wassup… because sometimes I can be a little too 'tell it like it is.' I need to wade in the water with a Pisces," she said.
Welcome to the world, Baby Leodis!