Actress and TV personality Garcelle Beauvais recently reflected on her short-lived '90s romance with Oscar Award-winning actor Will Smith on the Las Culturistas podcast.
During her interview, which was uploaded to the Las Culturistas official website on Apr. 6, Garcelle explained why her and Will's romance didn't turn into a serious relationship. She revealed that the two began dating after guest-starring on multiple episodes of the legendary sitcom, The Fresh Prince Of Bel-Air.
"I was an ingenue. He was single and a TV star, so we went out a couple of times," she said. "It wasn't a long-lasting relationship."
Garcelle then shared what led to the end of their brief dating stint, mentioning the King Richard star's now-wife, actress Jada Pinkett-Smith.
"I remember calling [Will Smith] one day, and he was in the car. His son [Trey, whom he shared with his now-ex-wife Sheree Zampino] was in the back," she told Las Culturistas hosts. Will and Sheree, also an actress, wed in 1992 and divorced in 1995. Their son was born the year they got married.
"So, you know, he picked up on the car or Bluetooth or whatever it was back in the day or speakerphone. Whatever it was, and he said, 'Hey, how are you doing?' And I said, 'I'm great.' [Then], I heard [Trey's] little voice in the background go, 'Is that Miss Jada?' And that's when I [was] like okay, I'm not the only one. Exit stage left…If a kid knows somebody, then that person's a little bit more important."
Jada Pinkett-Smith, Will's current wife, has been married to the 53-year-old since 1997. They initially met on the set of The Fresh Prince of Bel-Air in 1990 and started dating a few years later in 1995. In 1998 they welcomed their first child together, Jaden Smith, 23, and then in 2000, they welcomed their second, Willow Smith, 21.
Though it's unclear whether Jada knew Garcelle and her now-husband dated in the past, the 55-year-old revealed the information to Sheree on an episode of Bravo TV's The Real Housewives Of Beverly Hills in 2020. Garcelle was the first Black woman to join the show's cast and succeeded in campaigning for her good friend to star in it as well.
"[Will Smith] was hot. He was a bachelor, and I was single, you know? It happens in Hollywood," she said on an episode that aired on May. 20, 2020.
Back in 2018, Garcelle posted a throwback picture of her and Will "kissing" in a pool via Twitter to commemorate his birthday. The image was a still from the 1999 film Wild Wild West, in which they both starred in.
"A birthday kiss for the birthday boy #willsmith. Happy 50th," she wrote.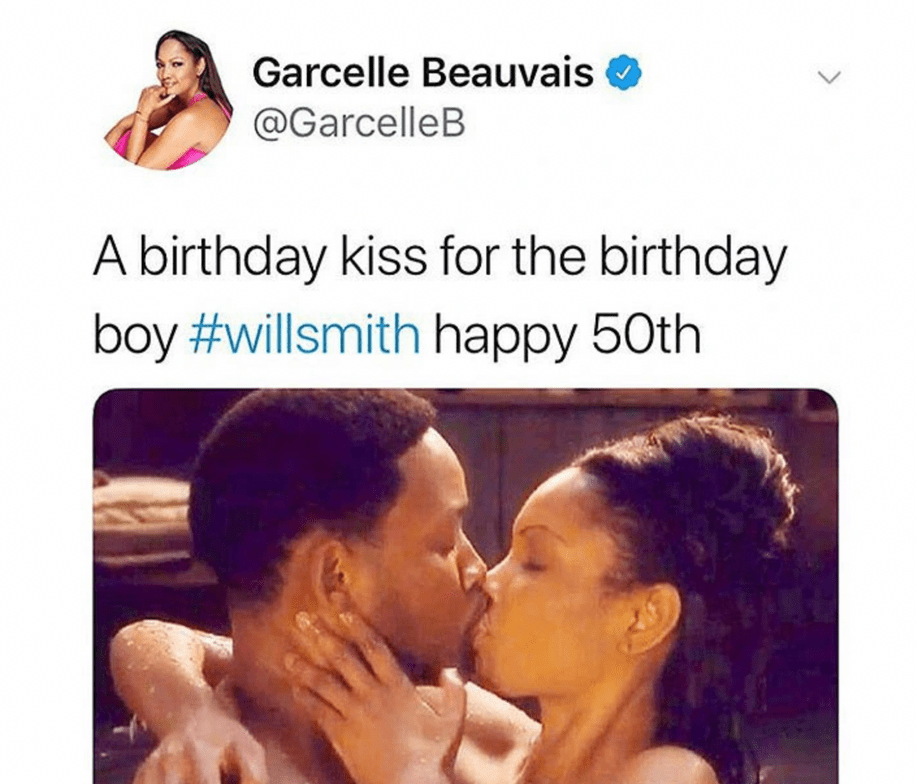 She later deleted the post and said she was just trying to be funny.
Ok guys it was supposed to be a funny post My bad if I offended anyone ! If you are my followers you know I'm all about lifting up people and being positive 🙏🏽being human I made a mistake … Have beautiful blessed day

— Garcelle Beauvais (@GarcelleB) September 25, 2018