Oscar Award-nominated and NAACP Image Award-winning actress Gabourey Sidibe and her fiancé, Brandon Frankel, flaunted their love in their wedding-style photoshoot for the cover of Brides Magazine.
Sidibe took to Instagram to share images and videos from the shoot, which appear in the newest digital issue of the popular bridal publication.
"This was a lot more fun than I was expecting! She's a bride, a cover girl, and a very Loved Woman. Lucky me," she wrote beneath a clip posted on May 11. "Thank you @brides for having me and my groom, my partner, my love @brandontour, who looks so handsome in his suits!!!!! We appreciate the rehearsal for our actual wedding! Thank you to this GIANT list of folks who got us right!"
View this post on Instagram
She also shared the beautiful Brides Magazine cover, which the publication announced via their Instagram page as well.
"The Style Issue is HERE, and Gabourey Sidibe is @brides newest cover star!" their social media team said. "From how @gabby3shabby and @brandontour first fell in love (spoiler alert: their first date was seven hours long!) to their non-traditional wedding plans, tap the #LinkInBio to read the full interview."
View this post on Instagram
In the photoshoot, Sidibe put a twist on the traditional American wedding look, opting for a bright-colored ethnic dress, cascading faux locs, and brass jewelry.
"When Gabourey told me she wanted to inject her Senegalese culture and @brides told me they wanted us to have fun, I said BET!" celebrity stylist, Kelly Augustine, said on Instagram. "Lol there's no one way to be a bride, and I love that we got to show so many sides."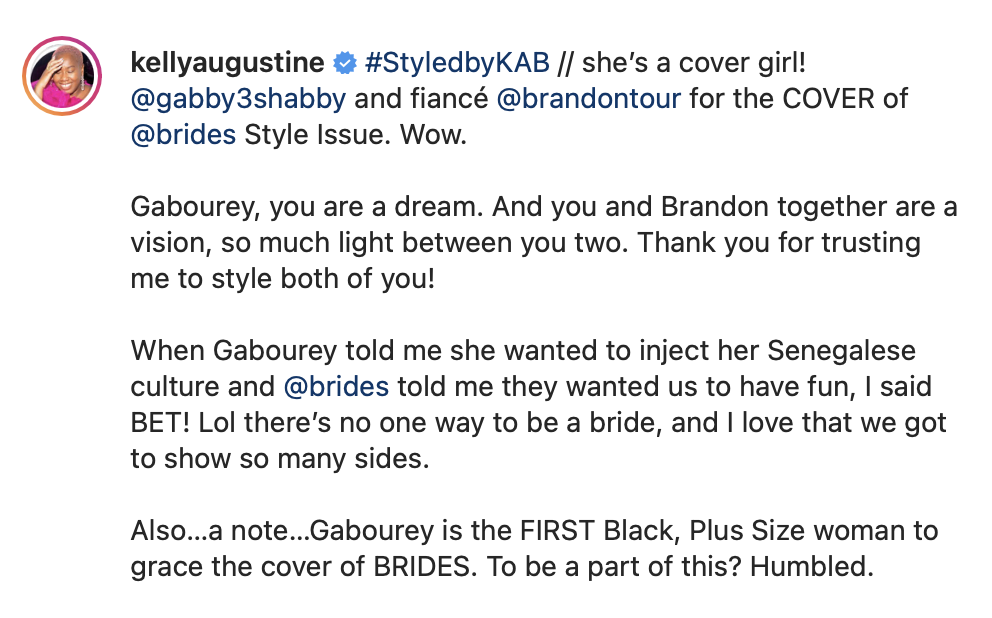 Augustine added that the 39-year-old actress was the first Black, plus-sized woman to be on the cover of Brides Magazine.
"Also…a note…Gabourey is the FIRST Black, Plus Size woman to grace the cover of BRIDES. To be a part of this? Humbled."
In the publication's cover story, Sidibe said she even planned to go against tradition for her wedding.
"There will be no bridesmaids and no bachelorette party, or "any other normal wedding things," she shared. "It cannot be a traditional wedding. Really, it can't be. I don't want anything done the 'traditional' way. Our relationship is very much on our terms, and I want it to be fun, like a true party."
She also revealed that she and her fiancé initially met via exclusive members-only dating app Raya in May 2019. Their first date reportedly lasted for seven hours.
The following year, Sibide and Frankel announced that they were engaged on social media.
"My BFF proposed, and now I get to hold him forever," Sidibe wrote underneath a video of herself flashing her engagement ring with Frankel right behind her. "My partner, my best friend, my cat's daddy, my [man], my heart, my fiancé!!!"
View this post on Instagram