Two men are in custody after rapper Da Baby and his entourage were questioned about a shooting in Miami on Monday.
Da Baby found himself in the middle of some drama after members of his entourage were reportedly involved in a South Beach shooting that left two people injured, reported Local 10.
Dimitri James, a Miami local, told Local 10 he initially thought the gunshots were fireworks.
"I actually thought it was like fireworks because this is a very touristy area," James recalled. "I thought I heard like. It might have been a gun battle because it was like, 'boom, boom, boom, boom boom,' just nonstop. Then it died out, and like five minutes later, again, 'boom, boom, boom, boom.'"
TMZ reported the incident stemmed from an argument outside of a restaurant. Wisdom Awute, a member of Da Baby's entourage, reportedly shot another person in the leg. The other shooter, Christopher Urena, shot another man in the back before he fled in a stolen car. Urena's victim is in the hospital in critical condition and is paralyzed.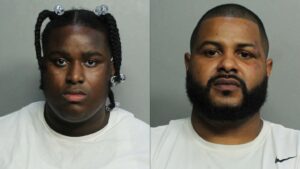 Da Baby and several members of his entourage were detained and questioned about the incident.
"DaBaby and his crew had an issue with people right next to them in the car," a source told Page Six. "DaBaby and his crew were traveling in around six SUVs, and either a car pulled up on them and started something or their doors hit each other and they got in a fight."
His attorney, Drew Findling, confirmed the "Bop" rapper was released without any issues.
"Mr. Kirk has been released by the police," Findling told TMZ. "No criminal charges have been filed against him."
Awute was charged with attempted first-degree murder and aggravated assault with a firearm. Urena was hit with the same charges along with grand theft and possession of a weapon by a convicted felon.