Following the death of Instagram model and influencer Miss Mercedes Morr, rapper Cardi B took to social media and clapped back at people justifying her murder due to her social media presence.
After hearing about Morr's tragic passing, Cardi shared a video of a news report covering the story to her Instagram story and popped off on people who had negative comments about the young woman's death.
"So sad and f**k you b*****s and Nikkas trying to justify it cause of her lifestyle," Cardi wrote. "Ya will hate on a bad b***h dead or alive. She was a sweetheart."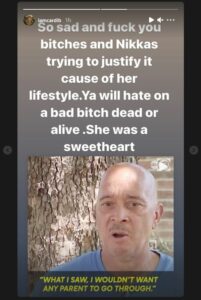 As previously reported by News Onyx, on August 30, Morr was found dead in her Texas apartment along with Kevin Alexander Accorto.
Police reported that Morr was discovered strangled to death after suffering a "traumatic concussion" in what seems to be a murder-suicide.
Morr's mother, Jeanetta Grover, said that Accorto was being followed, and Morr, who had over two million followers, did not have a personal relationship with him.
"She's very cautious about her surroundings," Grover said. "Unfortunately, someone basically was stalking and killed my baby."
Morr's dad, Mark, told KTRK-TV that he was the one to find his daughter dead.
"I walk in, and Janae's on the floor, and her clothes are all torn up and stuff," he said. "I go upstairs, guy upstairs with a knife in him, still alive… I just couldn't do nothing but stand there and call the police," he added. "That's the true story, and that's what I want out."
Related Story: The United Order of Tents, A Secret Society of Black Women, Will "Make Their Presence Known" In Brooklyn
Morr's sister, London, also took to Instagram and spoke about the loss of her sister and set folks straight who had been alleging her sister was killed in a robbery. 
"F**K ALL THESE PUNK A** ALLEGATIONS that these blogs are posting & the comments," she said as part of her caption to a photo of her and Morr on the beach.
"N****s don't know s**t She wasn't robbed. It was just a stalker from outta state who'd BEEN stalking her."
 

View this post on Instagram
An investigation is still open into what led to the alleged murder-suicide is open.