Black Twitter recently sparked some conversation about how women express love and appreciation for their men's R&B songs. Some women talk about canceling one of the most popular throwback love songs in history, and Michelle Williams is not here for it.
It all started when a Twitter user started a conversation about R&B singers doing way too much for their men. Pretty soon, the topic shifted to declaring 'Cater 2 U' as a song about slavery.
A recent headline about the topic, which reads Black Twitter Petitions To Cancel Destiny's Child's Song 'Cater 2 U' 17 Years Later Because It's A 'Slave Song' & Women Are Now Bothered By The Lyrics, had Michelle giving the girls several thoughts about catering to the right man.
According to The Shade Room, she posted a video on Instagram sharing her take on the situation.
"I just read that y'all wanna cancel the song 'Cater 2 U' by Destiny's Child," she said. "Oh honey, you didn't discern who you were catering to, and you gave your little pearls to swine. Don't be mad at Destiny's Child. Uh uh."
View this post on Instagram
Related Story: Black Twitter Fans Are Dragging Destiny Child's 2004 Hit 'Cater 2 U'
Michelle said what needed to be said, and fans are sticking with her. Many women also came to the trio's defense and criticized the types of men some of these ladies have chosen to give their all to.
"Can't cancel the classics," one fan tweeted.
"'Cater 2 U' still a bop, and imma treat my person like that for sure but only WHEN I find that deserving person. Ladies need to stop settling for f*ck n*ggas and realize it's okay to be single until the right person comes along."
Roommates also left some comments on the video.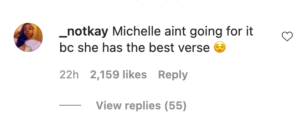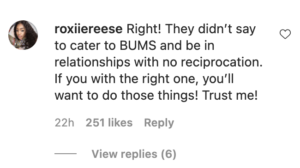 What are your thoughts?