Lori Harvey and boyfriend Michael B. Jordan were boo'd up during a Friday Night New Year's Eve celebration. 
According to The Shade Room, the entrepreneur, 24, shared a boomerang of herself and Jordan on Instagram, writing "Baby Daddy" alongside the clip. 
Internet users in the comment section questioned if this was Harvey's way of letting everyone know that she was expecting.
One user said, "If she pregnant. That baby going to be so beautiful, boy or girl."

Another user said: Lori if you pregnant just say that.

"She prolly preggo but to say baby daddy instead of husband….eh," one commenter said.
While many thought the model was pregnant, others believed it wasn't meant to be taken so seriously.
"I dont think she would do her pregnancy announcement like this lol she's joking," said one user.

"I mean ppl be calling their mans bd without even being pregnant, said another user.

They wouldn't announce no pregnancy like THIS lol," one follower said.
View this post on Instagram
However, Jordan, 34, was not the only one who participated in the festivities with Harvey. She was also accompanied by several of her homegirls as they rang in the New Year together.
Harvey shared another gleeful clip to her Instagram Story with her crew, writing: "Bringing in the new year with my girls," People magazine reported.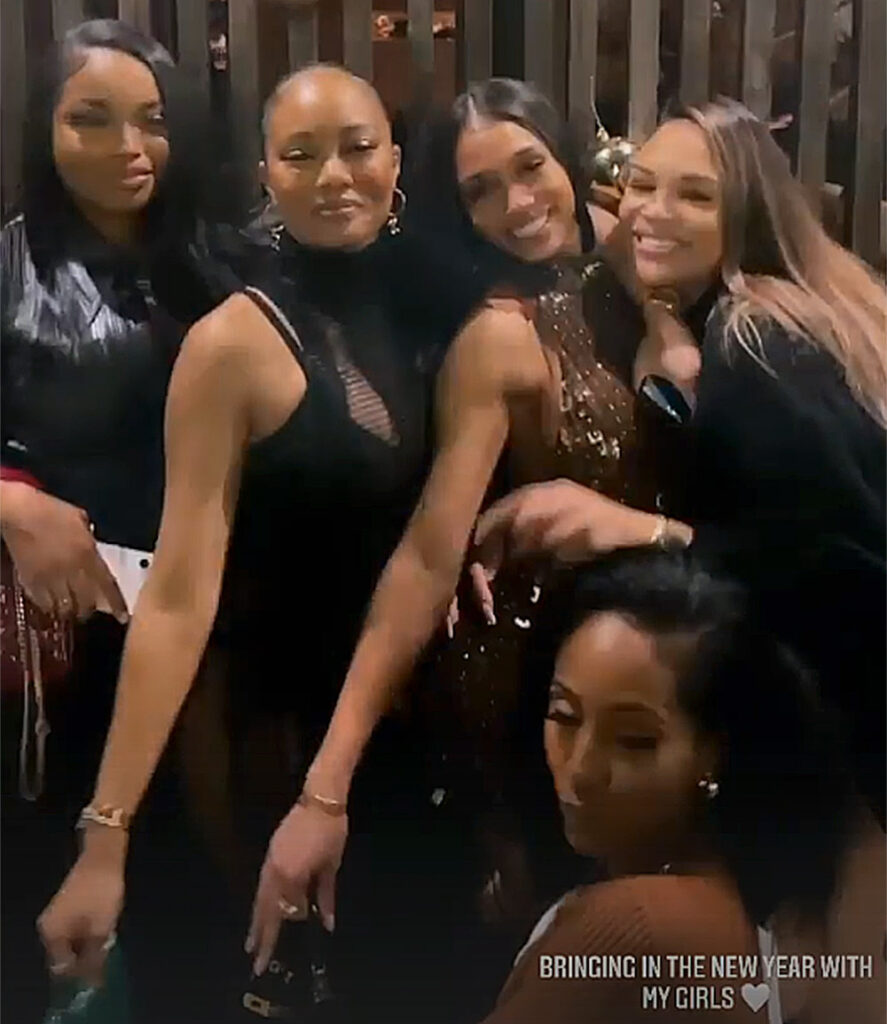 In November, the Journal for Jordan star celebrated his first anniversary with Harvey and posted a photo of the couple, making it Instagram official in January 2021. 
A source told People magazine back in February of their relationship: "They have gotten serious quickly. It's obvious that they don't want to be apart. When they don't travel together, Lori spends a lot of time in Los Angeles with Michael."
In April, Jordan explained that his relationship with Harvey was the first time he decided to go public regarding his love life. 
"I'm still private, and I want to protect that, but it just felt like it was a moment of just wanting to put it out there and move on," he said at the time. "I am extremely happy."
"I think when you get older, you feel more comfortable about the [public nature] of the business that we're in," Jordan added. "So for me, it was a moment to, I guess, take ownership of that and then get back to work."
Recently, the Hollywood actor doubled down on his comments on why he feels so comfortable sharing intimate moments about his relationship while speaking with The Hollywood Reporter for the magazine's cover story published in early December.
"When I was younger, I don't know if I could have handled the onslaught of opinions and being picked apart, and also being conscious of what the other person's going to go through," he said about dating in the public eye. "It takes a special person to deal with that."
"There's a premeditated planning of staying out of the way [of the public eye] that sometimes kills spontaneity and intimacy," Jordan continued. "I wanted to take that away and give this the best chance it had, in this weird world that we live in, to be somewhat normal. Long story short, I think it's just the timing of everything. It was the right time for me. Yeah. I'm happy."