Record executive and. low-key creep Irv Gotti recently contacted veteran rapper and actor Bow Wow's 11-year-old daughter via Instagram to ask about casting her in a movie.
According to Revolt, Irv reached out to Shai Moss via an Instagram post, saying he's "interested in casting" her in a new film. He had reportedly done so after allegedly trying to "reach out" to her parents.
"@_shaimoss hey Shai. I tried to reach out to your mom and dad. I am interested in casting you in [a] movie I'm shooting," he wrote in the comment section of her post. "Let your mom or dad know to get in touch with me. It's a perfect role for you. Irv Gotti."
View this post on Instagram
The 11-year-old then responded to his post with multiple laughing emojis.
Many social media users found Irv's move to be weird due to Shai's age and even pointed out the booking info in her IG bio. The bio currently states that in order to book the young girl, one should contact her manager Shenelle Gray. It also contains a link to Shenelle's official management page, which has her business address, 14429 Ventura Blvd., Los Angeles, CA.
Amongst all the comments, Irv responded to one in which a user claimed he was longer relevant. He additionally said he worked with Shai in the past.
"[One], She did my movie already," he wrote. "[Two], I'm rich as f**k stupid. I just got a $300 million dollar deal to shoot and own my movies, TV [shows], and music. I'm gonna be a billionaire, stupid. Keep watching my work and hating, lol."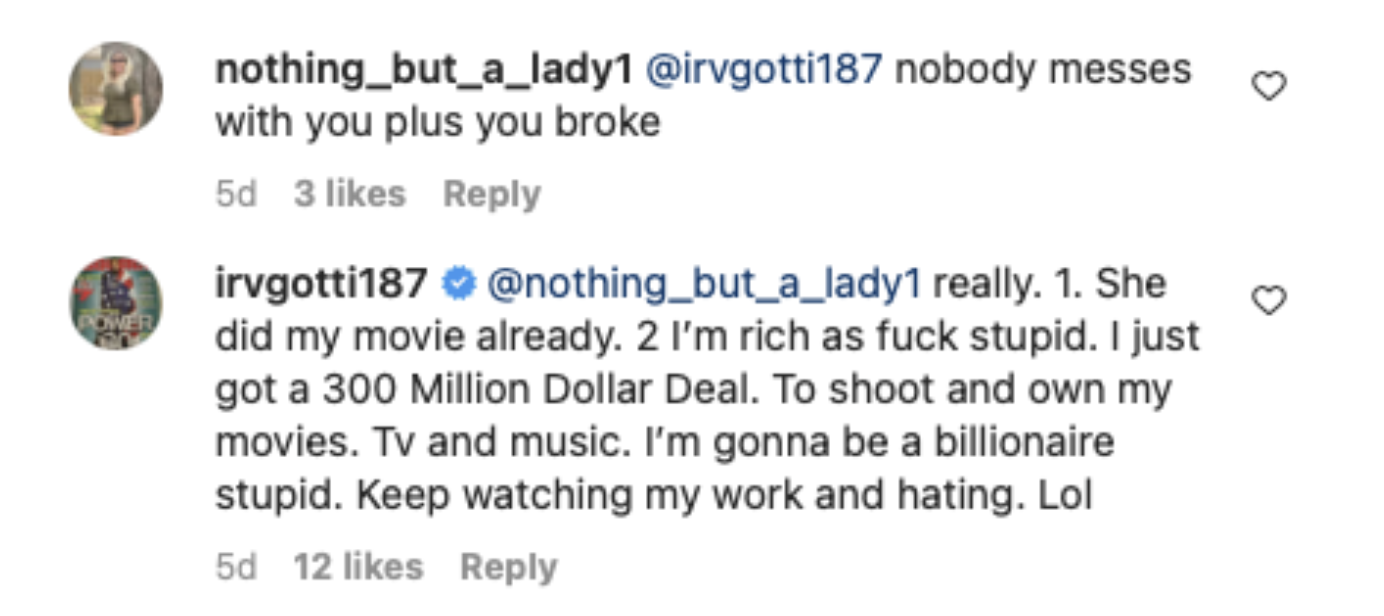 Thus far, Bow Wow's daughter has appeared in a total of three films: including A Screenshot to Santa (2021), and Side Hustle (2021).
Irv, on the other hand, has been busy hinting at his upcoming film projects and sharing memes regarding his recent comments about award-winning singer Ashanti.
View this post on Instagram