Instagram has long been a haven for young Black women to stunt. And they have. But there's also an older generation of Black women- older millennials and Gen X-ers who prove that swag and beauty get better with time. 
Meet the five grown a** women that you need to be following NOW on IG.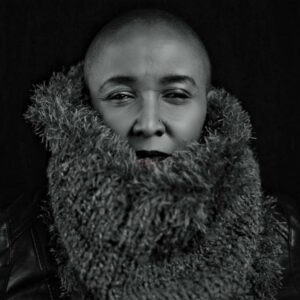 The Ohio-based 54-year-old powerhouse is a performance consultant and coach. She inspires women with her ALCHEMY program to maximize their potential by empowering them with strategies and tools to become the best forms of themselves. Staci also says her joy is not up for debate. 
"I navigate my own personal joy by making it a practice – just like – and as important as any spiritual practice. We are told that joy and rest are 'radical.' They aren't."
"Only people who don't want us to live and thrive label basic human necessities as radical," she added. "Joy is our birthright, and so I approach joy with that understanding and make it a non-negotiable priority.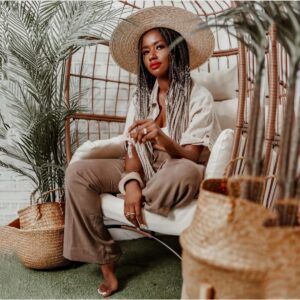 The 30-something (mind your business) Haitian beauty stylishly navigates being a businesswoman, influencer, mother and wife.  
Her Instagram highlights her life as she consciously parents her two adorable sons, serves looks, openly talks about her mental health journey and reminds her followers that she is a work in progress. Lisa also, authentically, shows the not-so-pretty side of influencer life– although her beautifully curated IG would have us think otherwise. She paints a realistic and honest view of Black womanhood as an older millennial.
On how she protects her sanity, Lisa says, "Journaling and therapy allow me to be present. That facilitates my choice to be happy. It's a choice."
Behind the scenes, Sili is making the world a better place for women and mothers (especially Black women) as the Vice President of Digital Comms at MomsRising. The 46-year-old mother of The Frog Princess is also the author of the bestselling children's book "If Dominican Were a Color." 
The conscious Black Dominican-born sis values sisterhood and her tribe. On her Instagram, she, unapologetically, shares aspects of her culture, faith, motherhood and her journeys alone and with her squad.
"It's important to be my authentic self. That means living without pretenses– without pomp and circumstance. It's true to myself and my purpose."
"So often, we are expected to adhere to respectability politics when that has never served us," Sili continued. "Authenticity, these days looks like being the woman that the women in my family were never allowed to be and giving my daughter an example of how Black excellence should move in this world– unapologetically and free."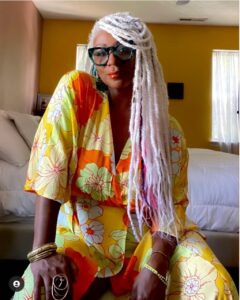 The founder of The Black Girl's Guide To Menopause podcast, Omisade, is redefining Black women's outlook on growing older and experiencing life's many changes.
The 54-year-old bombshell says she "earned" her years and takes to Instagram to highlight her sons, family, projects, and will even get jiggy while flawlessly handling life with her ex-husband as a co-parent and now homie. 
The silver fox holds friendships dear to her, and her Instagram page is chocked full of those beautiful examples. 
Omisade, which means 'Crown of water," instills in women how to be healthy and whole.
"I think at this stage in my life, my mid-50s, one of the things that allow me to access black joy is my ability to extend kindness to myself. There are times, like anyone else in the world, I have internal conversations with myself," she said. "Internal conversations about my worth, my efforts, my contribution to the world, my mistakes or missteps, my lovability—-about me having the right to be in certain spaces and try new things. Whatever that internal needs to be… it can be an intensive internal discourse."
"Unfortunately, there have been times when those conversations that I'm having inside of my head don't sound nice. Sometimes I'm not kind to myself, I'm supercritical, and I'm judging myself… harshly. I've spent the past 6-7 years working on that internal dialogue and giving myself permission and the encouragement to be kinder to myself." 
Omisade continued, "So in those moments where I'm able to actually extend kindness to myself, it shifts the narrative. It reminds me of my inherent worth. It allows me to be more open, vulnerable and introspective."
"I believe that internal narrative shift actually also makes it possible for me to extend kindness to other black people in a way that's much more authentic and genuine, giving people the space to keep their personhood intact. And for me, that is some Black Joy."
Lucrecer
(pronounced Lu-CRE-sha)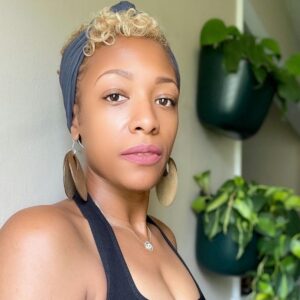 Lucrecer is the mastermind behind Soul Sista Plants– a movement of Black women that live their best lives jungling "the f**k out of their spaces with plants." 
The 49-year-old Ft. Benning, Georgia native is also a digital strategist for a non-profit organization. 
After a tough divorce, Lucrecer started over with her babies and emerged empowered and ready to take on the world. And that she did. Her Soul Sista Plants movement has a legion of 25,000 followers who look for her wisdom on gardening and successfully cultivating plants. 
A resounding source of strength for many women, Lucrecer admitted that she wasn't always this way. 
"It took facing some painful truths and letting those things and people not meant for me to die off. I also had to get comfortable not giving a fuck what people thought of me," she said.
Her outlook on loving and living out loud has changed dramatically.
"I'm my authentic self when I move in love and joy when I am my biggest cheerleader and advocate. When I'm grounding in nature and listening to my soul, that's when I am my most authentic self."
As Black women become more comfortable and unapologetic in their skin, it's imperative to see the living, breathing examples of sisters living their truths.