Chloe x Halle, comprised of sisters Chloe and Halle Bailey, served avant-garde realness in their latest video, "Ungodly Hour," which debuted on The Tonight Show With Jimmy Fallon Wednesday night. The single is the title track of their third album.
Related Story: Grammy-award-winning Rapper and Talk Show Host, Eve Returns to Television in Series, Queens
The duo's gorgeous styling is credited to the incomparable Zerina Akers– a Black style maven. Akers' work with Chloe and Halle has upped the duo's sex appeal.
According to Pop Sugar, Akers' team consisted of fashion heavy-hitters Blair Cannon, Chris Barberena, Lisa Catalina, and Delia Alleyne. Alfred Marroquín directed the stunning video.
Akers, who is launching her website, tapped into her inner siren to capture the music video's sensuous mood.
She styled the 22 and 20-year-old siblings in blinged-out flesh-colored bodysuits with individual jewels from CHRISHABANA– a brand based in New York City. Akers also outfitted megastar Beyoncé's proteges in lavish curve-hugging gowns, over-the-top headpieces, extravagant high-heeled shoes, sexy streetwear, and latex catsuits.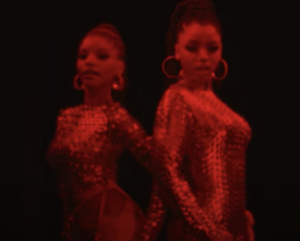 According to All Music, Chloe and Halle have released three studio albums under Parkwood Entertainment (Beyoncé's record label launched in 2010.)
"Ungodly Hour" was released in 2020 after the duo's hit sophomore record that charted on Billboard's 100 in 2018. The latest album peaked at No. 9 on the chart.