The internet was abuzz with the beef between Cardi B and The Shade Room (TSR) early Sunday morning.
Cardi took to Twitter to tell the controversial site to remove a video of husband Offset blessing their 4-year-old daughter Kulture with a wad of cash for her birthday. 
Offset & Cardi B's baby girl Kulture gettin' STACKS for her bday! 😍💵😩 pic.twitter.com/EWKHZPUmPJ

— Power 106 (@Power106LA) July 11, 2022
"Delete my child off your page @theshaderoom. Thank you," she wrote.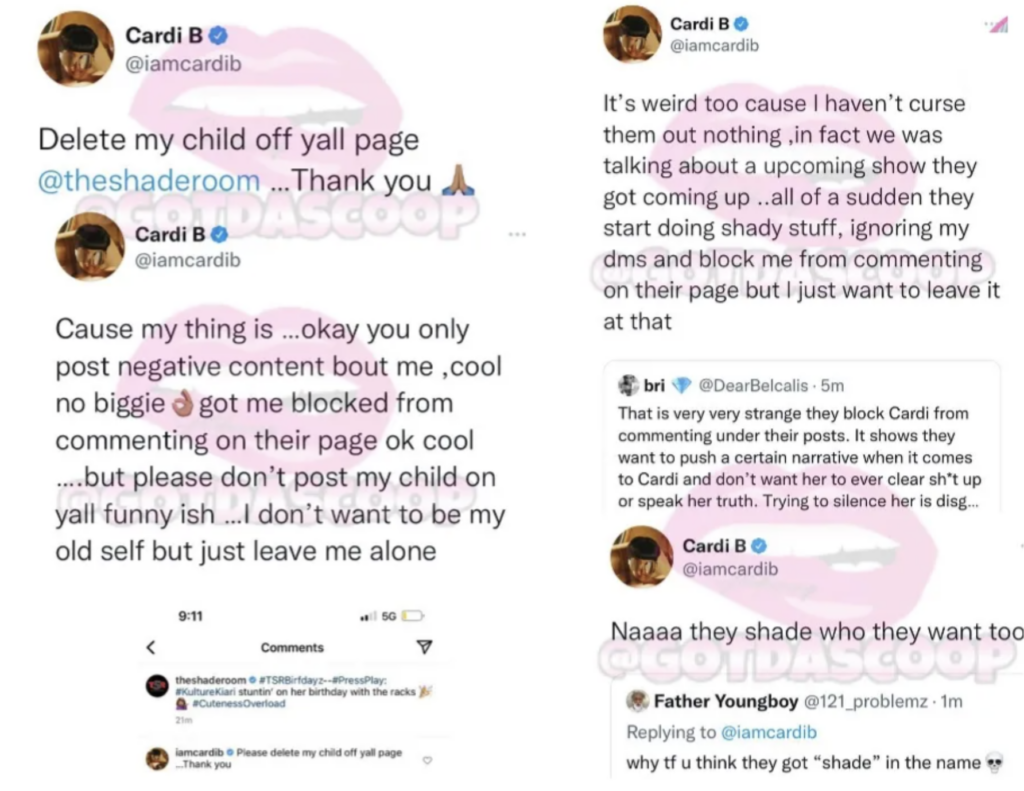 From there, the drama ensued. Fresh off her successful performances at the 2022 Wireless Festival, The Shade Room doubled down with its bullsh*t by posting an alleged tussle with the rapper vs. showing clips of her hyped performances, including her hit single "WAP" with Megan Thee Stallion.
"Oop! Looks like #CardiB got into a little bit of a tussle during her recent performance at the Wireless Festival," the caption read.
Oop! Looks like Cardi B got into a bit of a tussle at the end of her Wireless Festival performance! 👀 pic.twitter.com/0H3ASDRMky

— TheShadeRoom (@TheShadeRoom) July 9, 2022
The post set the Bronx rapper off, and a back-and-forth ensued between Cardi and the publication on Twitter.
The "Bodak Yellow" emcee responded to the shady tweet, posting additional footage from the person's page.
It wasn't NO FIGHT ! @itsKenBarbie got the whole thing on their page ❤️💙 https://t.co/2PclxZWaIT

— Cardi B (@iamcardib) July 9, 2022
A more extended 45-second clip of the alleged "tussle" revealed the crowd fully immersed in the Cardi B experience, yelling her name and singing the lyrics to "Bodak Yellow" when an overzealous fan grabbed her mic. The rapper didn't physically attack the person– she simply took the microphone and continued her performance. The receipt seemingly fueled the hours-long beef.
While the rooms, neighborhoods, and playgrounds pretend a whole fight happened pic.twitter.com/BdttatYJfH

— KenBarbie™ (@itsKenBarbie) July 9, 2022
Cardi fans and followers lambasted the messy publication, saying that it seemed to always post negatively about the successful artist. 
I actually don't understand it. Over an hour on stage, her performing with her husband, her performing with Meg, the crowd literally going wild and they only posted a clip where gor 5 seconds she wasn't performing. It shouldn't be so obvious you like posting negative about her.

— Teshia (@xxBabigurlT) July 9, 2022
Wrong the fan took her mic n she took it back show the full video n the opposite angle

— Khristie Williams (@Tweetpy32) July 9, 2022
She had an amazing headliner but y'all posted this to get her dragged. Why y'all didn't highlight her bomb ass set🤔 pic.twitter.com/HUDjvwCDSo

— The honest truth!!! (@GloddKay) July 9, 2022
Why yall not delete this after it was proven wrong?

— NYPRG (@NYPRG) July 9, 2022
I really hate how biased y'all are , it's sickening . Y'all sit there and act oblivious but just know God is gone get somebody

— ShawnAubreyCarter🐐🦉🦚 (@Shawnaubreycart) July 9, 2022
Cardi, fans and people fed up with TSR's alleged toxic behavior continued to call the publication out for being biased and hostile toward Black women.
The Shaderoom knew better than to leave this tweet up. The very same blog that uses their platform to diminish and put down black women, trying to USE black women and rally us into fake outrage. Race baiting as a means to get Cardi B dragged. Disgusting and shameful pic.twitter.com/sXKVeBbHJL

— bri 💎 (@DearBelcalis) July 11, 2022
All I know is that Cardi B sued a blogger for defaming her and WON! If people at the shade room even have an ounce of functional neurons they should stop messing with her now while they still can. I am just saying. pic.twitter.com/gmRq2erYm0

— 🟣Dr. OTAKU🟢 (@DrOtaku2) July 11, 2022
cardi b taking down the shade room could potentially do more for the black community than the civil rights act of 1964 https://t.co/KnzDuqqbJZ

— darēus. (@dareusdesign) July 11, 2022
The Shade Room has been problematic for a long time: Instigating real drama, perpetuating stereotypes, and baiting transphobic/homophobic comments on their platforms…it's been trash.

Hopefully more people outside of @iamcardib calls them out.

— Ernest Owens (@MrErnestOwens) July 11, 2022
The 29-year-old rapper also accused The Shade Room of blocking her from the comment section on Instagram in a now-deleted tweet. TSR denied the allegation.

Sunday's incident wasn't the first time Cardi had smoke for The Shade Room. In 2019, the "I Like It Like That" artist tore the site's owner Angie Nwandu for negatively covering her, sister Hennessy and husband Offset.
"We don't need to be posted on blogs with people that just got negative sh*t to say just so you could hate your life, your looks or your day cause [they're] not happy with them self thank you," she wrote in a now-deleted IG post.
Cardi continued her rant.
"At the end of the day, a blog is a blog, and I feel like they gotta post the good and the bad. But come on, now. That bias sh*t that people wanna do all the time because they on a fu**ing hate campaign —they on some 'F**k QC,' 'F**k Cardi B' campaign. That sh*t is getting wack."
About the back-and-forth with TSR, Cardi concluded, "No lie, it really sucks that shit had to even get this way. and this far. All I ask for is for fairness. The gaslighting the games is bullshit. Just remember I'm a human too."